As you probably already know – we are big fans of fro yo in our family! Little M and LP can't get enough of it. I'm always trying out simple ways of making quick fro yo, so I can whip up a healthy, but tasty dessert for the kids.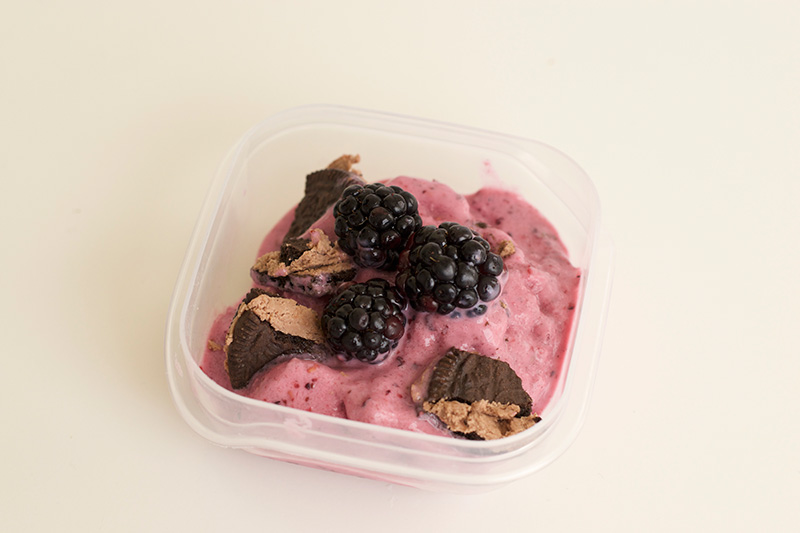 This quick fro yo recipe is made by hand, with no special equipment needed, except a blender. We used to have an ice cream maker and barely used it! I'm much more of a fan of recipes I can just throw together quickly and eat straight away – aren't you?
Fro Yo never stays around long in our home anyway, so I don't mind making quick little batches like this, without using an ice cream maker. Fro yo made by hand does tend to go a bit hard if left in the freezer too long, but that is solved by eating it as soon as it is ready! Or if you'd like to store it for longer, just remember to let it defrost and soften for 20 minutes before eating. It tastes just as yummy!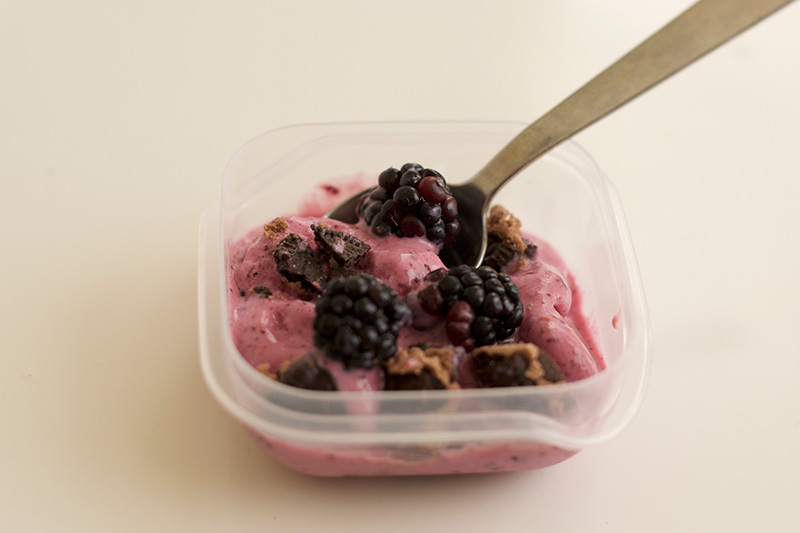 This quick fro yo is so easy, with only three ingredients that you'll probably have handy. We nearly always have yoghurt in the fridge and frozen fruit in the freezer – I like that I can just throw this together an hour before dinner.
You can use regular plain yogurt, or greek yoghurt and use any mix of berries you fancy. We usually use a mix of blackberries, raspberries, strawberries and blueberries.
The Oreos are optional and a bit of a treat! I used chocolate ones, but of course you can use the ordinary ones. You could also try adding any other crumbled cookies, or some choc chips, or leave them out if you prefer. Feel free to experiment!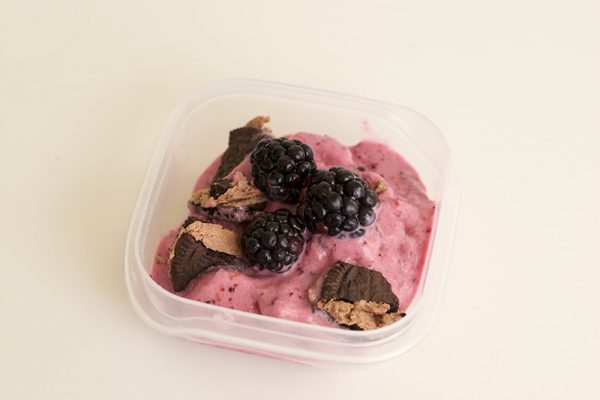 | | |
| --- | --- |
| | |
Whizz the yoghurt and the frozen fruit together in a blender, or in a bowl with a blender stick.

Place mixture in a bowl. Cover and freeze for 20 minutes.

Stir well, then freeze for another 20 minutes.

Repeat the previous step by stirring for a final time and freeze for a final 20 minutes. Mixture should be thicker and semi frozen.

Stir in some crumbled Oreos or your chosen treat.

Serve with blackberries or other fruit on top - yum!
Try any mix of berries you fancy. You can also vary the cookies. Top with fresh fruit and more crumbled cookies!!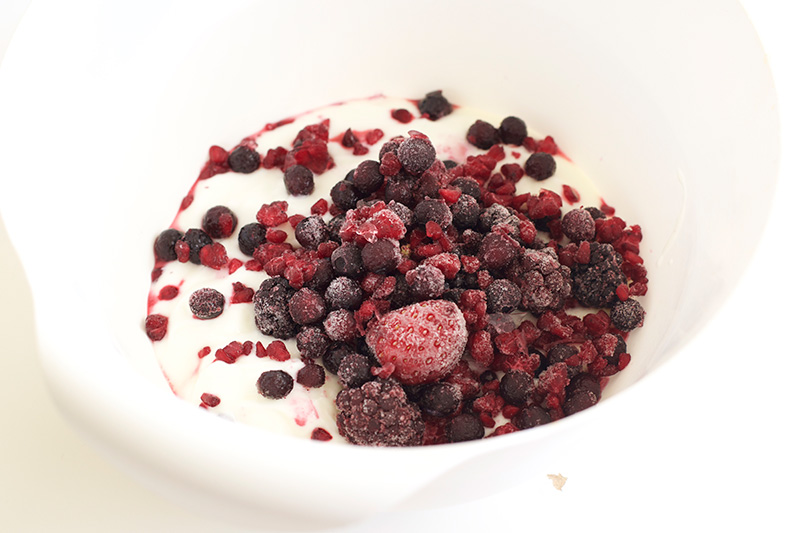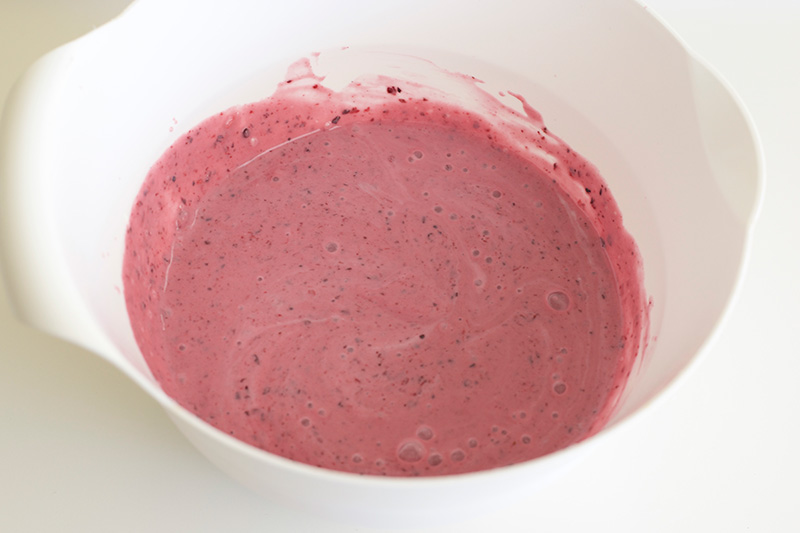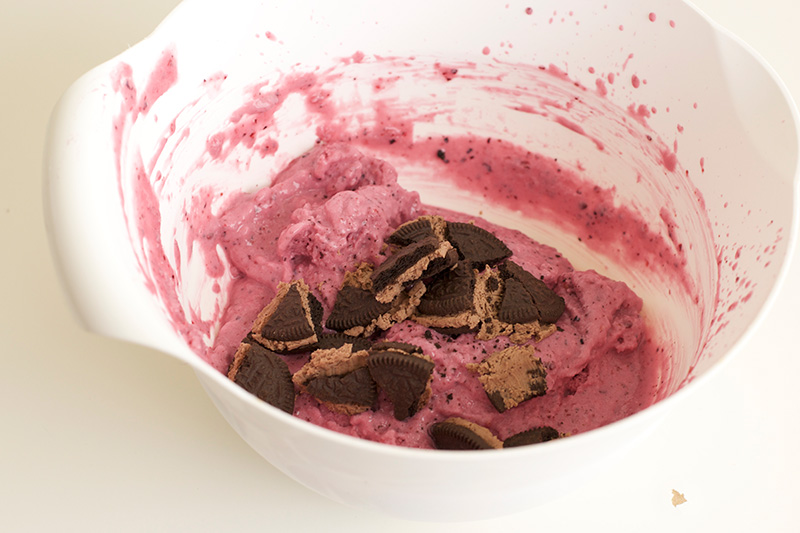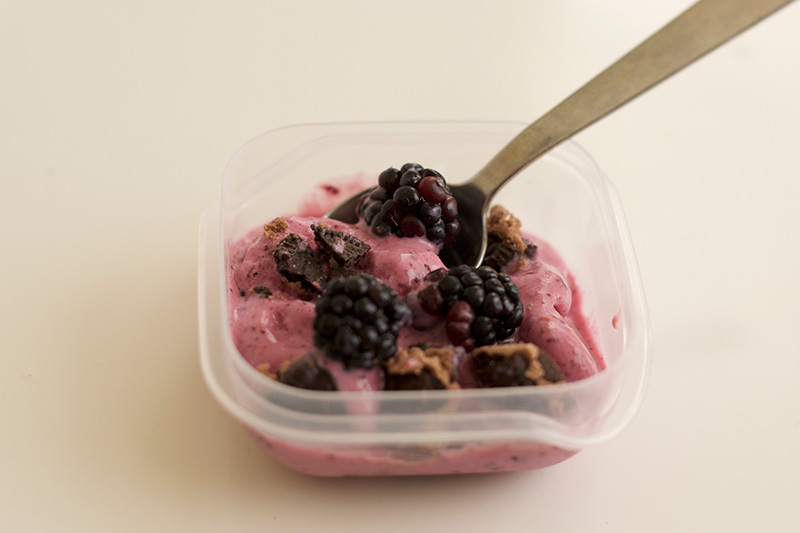 This quick fro yo went down almost as quickly as it was made! Both my two loved it – and of course the Oreos were a hit! I think this will be a regular in our family. How about you?
If you liked this recipe you might also like my Raspberry Frozen Yoghurt Bites or my Easy Peasy Strawberry Fro Yo Bites.
Like this post? Pin it!