So you've read 'What to Expect When You're Expecting' and you've bought every baby product you could possibly need. You've written a birth plan and maybe even packed your hospital bag. You're ready for baby right? Well here are my 5 handy pre-baby tips, that no one usually tells you….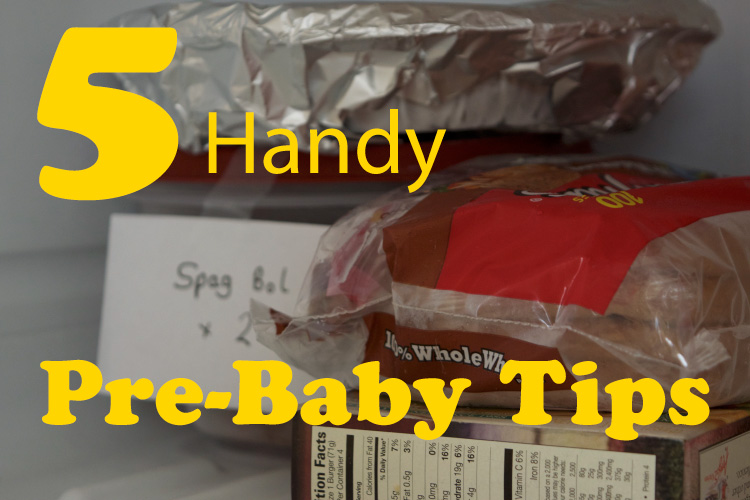 1. Fill your freezer
A couple of weeks before your due date fill your freezer with healthy meals and snacks to last you for the first two weeks after baby is born. If you are feeling reasonably energetic you could get in the kitchen and make some homemade meals. Or just double up each time you make a bolognese sauce, or a chilli and put the extra in the freezer. You could also add some healthy instant meals, like lasagna or veggie pizza.
Aim for healthy meals and snacks that are easy to stick in the oven or just defrost and eat – quiches, mini muffins, chilli, lasagna. Healthy foods will give you more energy after baby is born and easy preparation wins the day here. It might seem a bit tedious, but portioning up each meal or snack and labelling it will be really useful when baby comes. We did this before Little M was born and had enough meals to last us the first two weeks – we were so grateful for this after he arrived. This tip is especially useful if you don't have family around to help out.
2. Buy paper plates
Linked to filling your freezer with food – buy a pack of paper plates. I read this tip somewhere before Little M was born and it was one of the best things I did! So simple, but using paper plates for those first few days meant we didn't have to worry about washing up plates. I barely had time to feed myself, but at least we had minimal washing up! Paper plates are also useful if you have visitors coming round to see the baby, as you can all have a piece of cake, or a biscuit and not have to worry about clearing up. Paper plates can go straight in the bin (ideally the recycling or compost bin!) – done! Easy peasy!
3. Pack snacks for daddy
Ok, so there's a bit of a food theme going on here. But better safe than sorry right? Don't forget to pack some snacks for daddy or partner in your hospital bag. You might want to put some snacks in for yourself too, but you might not eat much on arrival and you'll be getting hospital food anyway. Daddy or significant other will need to keep their strength up for mama's sake and will need to fend for themselves – so pack some healthy snacks, like cereal bars and trail mix . Aim for easy, healthy snacks that they can pick on at any time of day or night (and will give them more lasting energy than the chocolate from the vending machine!)
4. Buy diapers/nappies in two sizes
Don't go overboard buying diapers, until you know what works well for you and baby. But do buy one or two packs in two sizes – newborn and size 1. The newborn size often don't fit for very long and you'll be grateful to have the next size up at your fingertips. If you are cloth diapering have all of your supplies ready and consider a diaper service, or asking someone to help out with laundry for the first couple of weeks.
5. Go get a pedicure!
Yes, you just read that right. At some point you need to rest assured that you've prepared the best you can for baby and it's time to put your feet up and relax! A pedicure is the perfect excuse to relax and pamper yourself – and fairly inexpensive. If it's out of your budget you could even ask hubby for a home pedicure! (The Hubster has happily painted my toe nails on many an occasion!) Whatever happens during baby's arrival, you can look down at your toes and feel  just a little bit sparkly! If pedicures are not your thing (although I'm not sure who would turn one down!) then at least make time to put your feet up more than usual – perhaps with a favourite movie and a hot drink. It's time to let the housework go, good practice for when baby arrives…
I hope that these tips have helped you think outside the box when it comes to preparing for baby's arrival. Sometimes it's not about going crazy and having every gadget at your disposal, but just doing those little things that can give you an extra helping hand when baby arrives. I would also add that if people offer to come over and help after baby is born, then take them up on it! Even someone just taking the rubbish out can really help. Or if people ask to come over and see the baby, don't be afraid to ask them to pick up a pint of milk on their way over (or whatever else you need!) People are often more willing to help than you may realise.
What other pre-baby tips do you have to offer? Any unusual tips that people don't often mention?
You might also like to read my post Newborn Bare Necessities – for tips on buying only the essentials for your newborn.