I started running when I was a teenager, as a means of burning off all that teenage angst perhaps. But it made me feel good and so, like most things that make you feel good – I carried on doing it.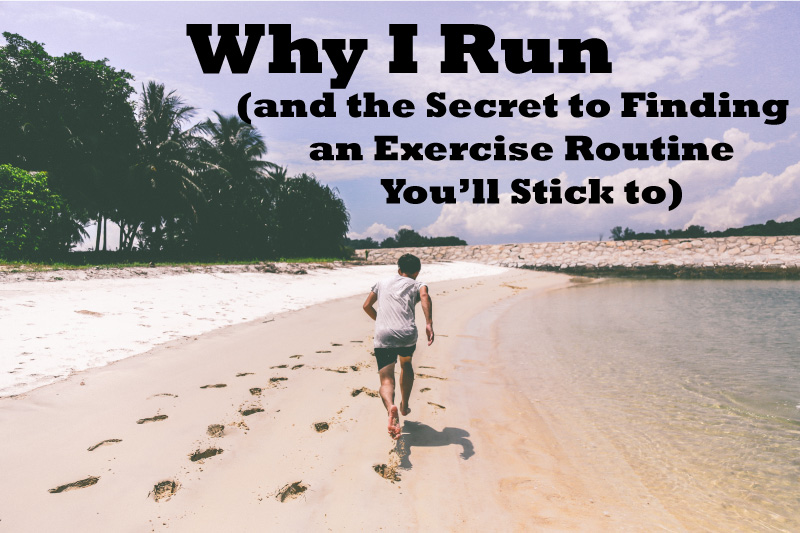 I had never been especially athletic at school. One day I just put on my trainers, stepped out of the door and ran. I have never looked back.
Why do I keep running? And what is the secret to finding an exercise routine that you'll stick to?
Why do I run? Running makes me feel great. Uplifted. Healthy. Full of energy for the world. I can't imagine my life not running and am thankful to have found an exercise that I enjoy so much.
I love that running is so simple. No experience is required. No equipment is required (except for a pair of trainers). No gym is membership required. Most of us able bodied folk can simply step out of the house and run.
At university I carried on running. With an ocean nearby, there was no better feeling than blowing away the cobwebs of exam stress (or boy stress) by going out for a run along the seafront. By this stage I had got quite into running and eventually decided to enter a half marathon – to give myself an aim, an incentive. It was such an amazing feeling to eventually cross that finish line, knowing that I did it all alone, with my own two feet.
I have had times in my life where I have been very serious about running, a little obsessive maybe and have had to recognise those signs in order to keep myself in balance. If the long runs and the races become an obsession that brings stress, then for me that defeats the purpose of running and it's time to tone it down.
At other times in life, like after giving birth to my son, I was itching to get my running shoes back on. A way of helping me feel myself again perhaps. A need to simply breathe in and out. To get the blood pumping. Again, a need to feel balanced.
I run to feel good. To feel calm. For me running must be in balance with other aspects of my life. It should not become another stress.
Sometimes in life I have run to compete, with myself as much as others. Driving myself to run further and faster, looking out for the next half marathon to run. Other times I have run just for the sake of running. An excuse to get out of the house with a baby. Twenty minutes round the block with a stroller in hand, just plodding along taking in the sights and the fresh air.
But always, whatever else is going on in my life. I run. Sometimes in life, long runs, nearly every day. Other times in life, short jogs, sporadically. But I always run.
I don't categorise myself as a serious runner, nor as a leisure runner. I simply run because it makes me feel uplifted. It brings me joy, makes me feel healthy and strong and makes me feel positive about life. It doesn't take away problems I might have. It doesn't solve difficult situations. But running helps me to be the best I can be. It helps me deal with whatever life brings me.
However, much as running has changed my life and I would urge anyone to try it, I know it's not for everyone. For whatever reason, some people just can not take up running. So why am I telling you this story? What's in it for you? If you can't or don't want to run – what to do instead?
What is the secret to finding an exercise routine that you can stick to?
It's simple really. If you want to exercise regularly, to keep fit and to feel good, then you must find something that you LOVE. That you really truly love. Yes it might be difficult to haul yourself out of bed some days. But find an exercise that you love in the MOMENT that you are doing it and your motivation will be so much higher.
While I admire anyone who has a plan to get healthier and fitter at the beginning of  a new year (or at any time) all I would say is, find that exercise that is right for YOU. Maybe for you that is the gym. But maybe it's not. It doesn't matter if you do it once a week, or every day. If you want to keep exercising year round, it has to be something that you love doing.
What makes you feel balanced? What fits into your life? What would you make time to do even when time is tight? What do you love?
Most of us struggle with the gym. Personally I hate the gym! I have to do something that I love doing, that fits in with my life. For me that is running. I also like to swim and do occasional classes. But running is the thing I always come back to.
What is the thing you always come back to? Skating? Dancing? Swimming? If you are not sure, now is the time to try some things out!
It's a cliche, but it's true. Finding what you love, in terms of exercise (and in life in general in fact!) is the secret key to finding an exercise that you will stick to.
Find what you love and you won't look back.
What exercise motivates you? Are you trying out a new exercise routine in the new year? What type of exercise do you love doing?
If you want to read more about running as a mum, you might also enjoy my post on running with a stroller.
Lead image by Alex Wong courtesy of Unsplash.