Moments of Gratitude is where I reflect on all of the things that have made me happy, thankful and inspired that week. I hope that I will also inspire you to do the same…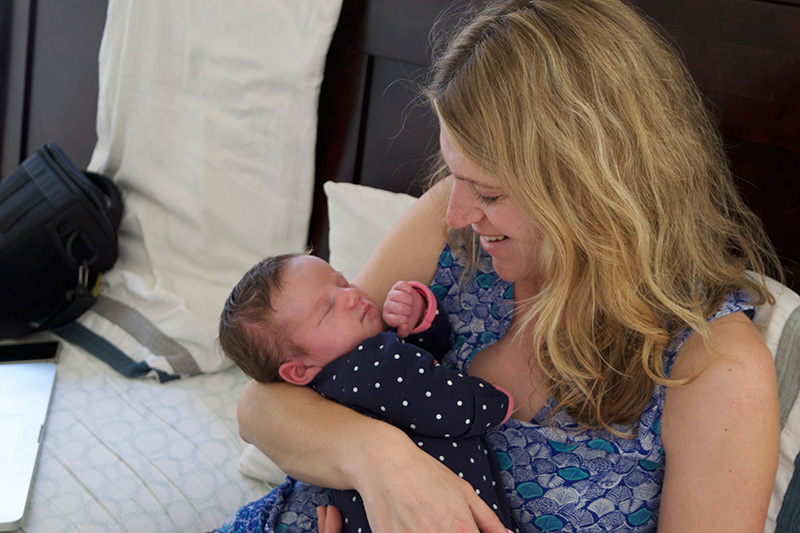 I've let Moments of Gratitude slip over the last few weeks, as baby preparations have taken over. But I'm trying to get back into the swing of things now and safe to say I have LOTS to be grateful for lately. So I've stretched out this week's list to cover the last couple of weeks.
Over the last couple of weeks I have loved these moments…
• The birth of our gorgeous Little Miss! I never thought I could love another child as much as I love Little M, but Missy has arrived and we are just as in love with her – there is simply more love to share around!
• Enjoying family time. With The Hubster around at the moment it's been so nice to enjoy spending time together as a family of four – as well as getting plenty of help with the little ones!
• Watching Little M give his little sister hugs and kisses. We've had our moments of course (and I'm sure there'll be lots more to come!) but overall Little M has responded really lovingly to the new addition in the family.
• Feeling grateful for wonderful friends. Living abroad, we have no family nearby, so we were worried about managing with Little M when it was time for Little Miss to arrive. But we are so lucky to have some incredible friends who helped out with Little M and made everything run so smoothly.
• The arrival of Granny and Grandpa! It's been so lovely to see The Hubster's parents recently – and to have to much help around the house, I feel really spoilt. So far having a newborn and a toddler is not hard work at all! I know that will all change when the grandparents leave and The Hubster goes back to work – but I'm trying to enjoy it for now!
• Seeing Little M start to get back to his old self. He got himself so worked up and worried about me going into hospital to have Little Miss, that we got quite worried about him. He is still going through lots of change in his new role as big brother, but he seems much happier and is on the way back to being himself again.
• Feeling loved and supported by The Hubster. The last couple of weeks have been such a roller coaster of emotions, but The Hubster has been my rock throughout. Sometimes it takes those major challenges in life to remind us why we love our loved ones so deeply. Sometimes it's hard being abroad with no family around. But I really feel it has brought The Hubster and I closer together, as we have had to rely on and support each other even more than ever before.
• Getting back to the blog! The poor blog has been neglected lately, what with me being heavily pregnant and trying to juggle work, Little M and all the other things going on in my life. Of course I still have lots going on now, with a newborn baby and a toddler – but I feel physically good, am off work for a good while and am looking forward to getting back to the blog whenever I can.
Having a blogging break has been good for me though. It's reminded me that the most important things in my life are the health and happiness of myself and my family. I love blogging, but it comes second to looking after myself and my family – all in good balance with the important things in life.
What were your moments of gratitude this week?
I'm linking up with Katy and Sian and their #HappyDaysLinky.