I have always loved the idea of a whale themed nursery. Whales, the mystical creatures of the deep, make tranquil centre points for an ocean themed room. So I started to collect together some ideas of things I have found for a whale themed baby's room.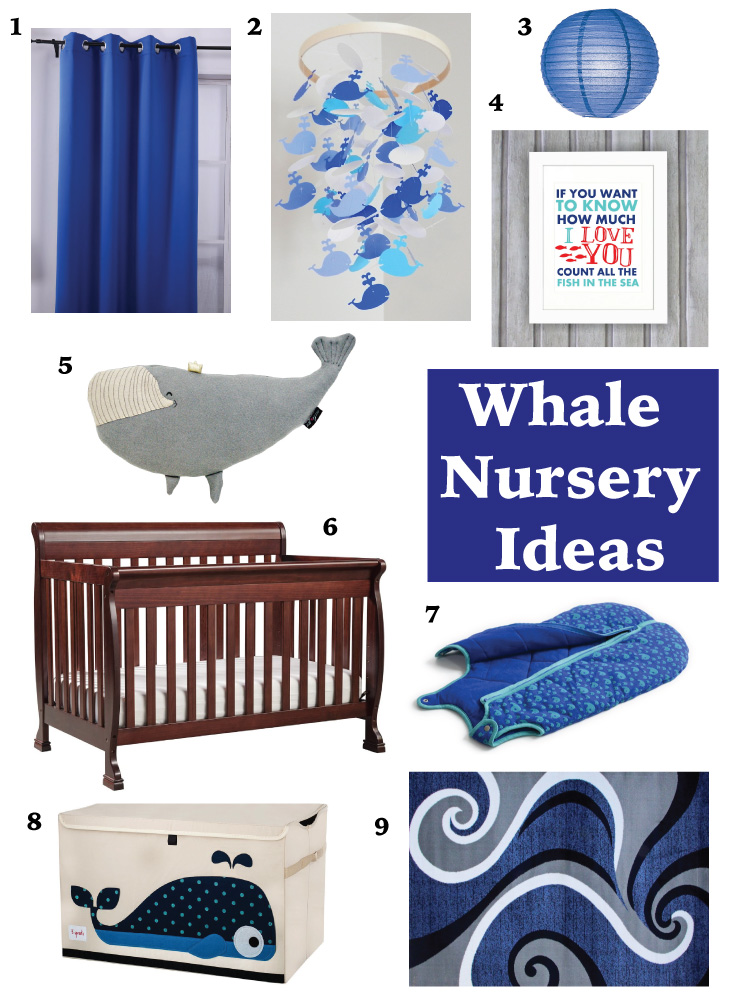 A blue and white colour scheme can form a peaceful base and handmade or unusual whale accessories add a bespoke look. This room could work for a boy or a girl and it's sophisticated style would grow with baby into toddlerhood and beyond.
I hope these ideas help get you started with creating a magical underwater world for your little whale lover!
These blue blackout curtains from Deconovo create a perfect watery backdrop, whilst keeping the room nice and dark – so your little one can sleep peacefully.
2. Whale Mobile
This handmade mobile from Etsy shop One Little Shop is a colourful, yet simple focal point in the room. Perfect for baby to gaze at.
This navy blue paper lantern will give your baby's room a soft blue glow.
4. All the Fish in the Sea Artwork
You can buy this cute sentimental artwork as an instant download from Etsy shop Call Me Artsy. Check out the shop for lots more adorable printable artwork.
This gorgeous handmade whale princess will fit right into a whale themed room – it's the perfect soft toy, or cushion for your little princess, or prince for that matter! It's handmade from cotton fleece and felt at Etsy shop Milipa and I'm totally in love with it! How about you?
This Kalani 4 in 1 convertible crib from DaVinci will fit stylishly with any colour scheme and will grow with baby from newborn to toddler.
This playful whales sleeping bag from Baby Deedee is adorable for a whales themed room. It will also keep baby cosy and safe, with no danger of them kicking blankets off.
This whale toy chest from 3 Sprouts will keep baby's toys tidy, whilst adding cuteness and colour to the room. You could also use this handy container for diapers, wipes, or other storage in the room.
9. Waves Carpet
This blue, grey and white abstract rug gives the calm impression of waves and gives a splash of colour. It would work well with a light coloured carpet or wooden floors.
Are you planning a whales, or ocean themed room? What other ideas do you have to add?
Disclosure: This post contains affiliate links for your convenience, however all opinions are entirely my own.
[plinker]